How does it work?
When you tap on the "Sync" button on the dashboard, we will automatically sync all of your inventory, using your public data. As soon as the sync completes, the entire dashboard will update and reflect your latest inventory information (see limitations below).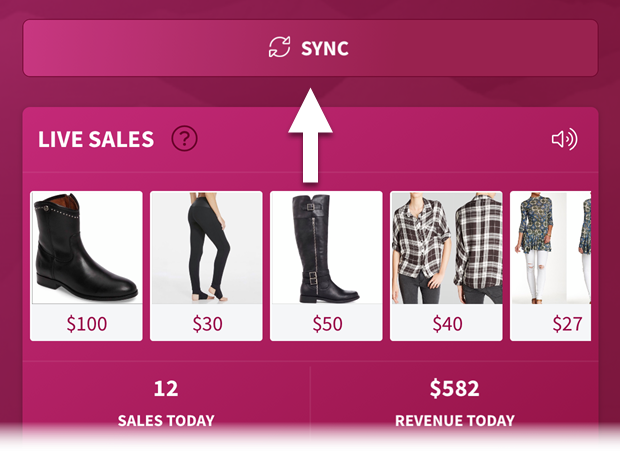 All you have to do is tap on the "Sync" button and let us do the rest!
Please do not close the app while the Sync, Sales Report, or Inventory Report import is in progress!
Inventory Sync
The following listing data will be updated each time you sync.
Date Listed
|
Title
|
Description
|
Department
|
Category
|
Subcategory
|
Brand
|
Size
|
Color
|
Price
|
MSRP (Original Price)
|
NWT
|
Number of Likes
|
Number of Comments
|
All Photos
Inventory Report
This following private data can be imported via your Poshmark Inventory Report.
SKU
|
Cost
|
Lowest Listed Price
Editable Fields
The following fields can be edited and tracked directly in SELLER | INSIGHT!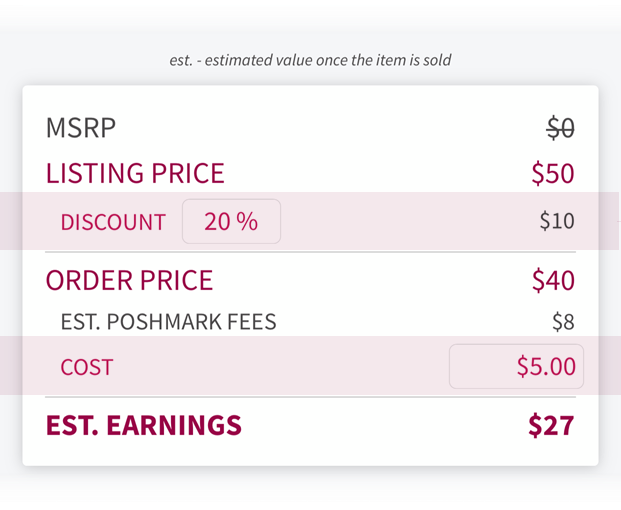 Calculated
The following listing data is automatically calculated for you.
Discount Amount
Order Price (after discount)
Estimated Poshmark Fees
|
Estimated Profit
|
Number of Days Listed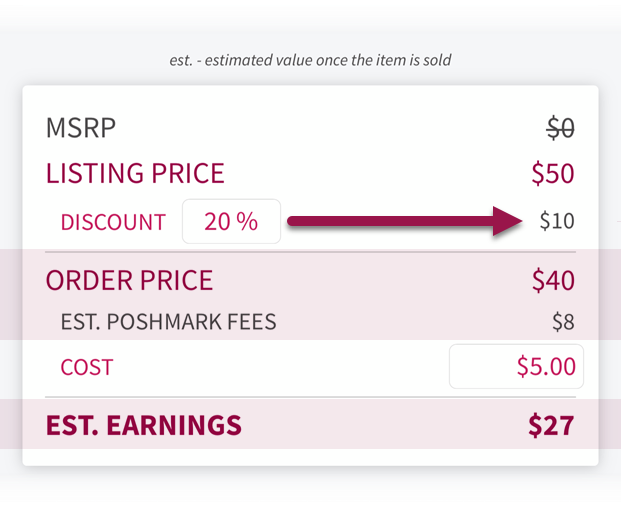 Limitations
Because the Live Inventory Sync operates off of your public inventory data, there are some limitations for you to be aware of.
Private Fields
If you keep track of your SKU or Item Cost in Poshmark, you will need to import your Poshmark Inventory Report in order to see those values in SELLER | INSIGHT.
Multi-Item Listings
We cannot determine if your listing is a "multi-item" listing based off of your public inventory data. It will display as a single listing in SELLER | INSIGHT.
Lowest Listed Price
The "Lowest Listed Price" feature is disabled while the listing is in the "Pending Import" state.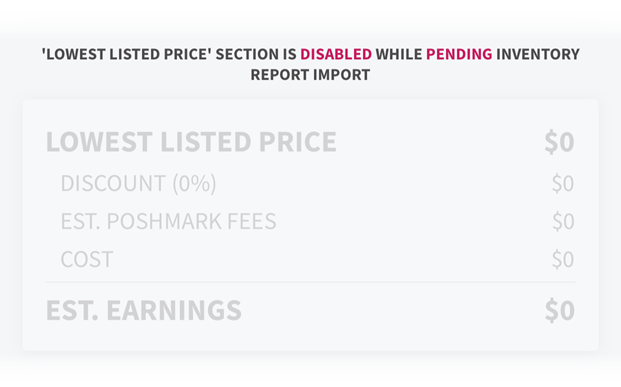 Frequently Asked Questions
Do I still need to import my inventory data using the Poshmark Inventory Report?
Yes and No, depending on your personal preference. See the options below.
Yes, if you would like to see your Lowest Listed Price.
Yes, if you keep track of your SKU and Cost in Poshmark.
No, if you do not keep track of your SKU or Cost in Poshmark and you are not interested in the Lowest Listed Price.
Do I have to sync every day for the newly listed inventory to show up?
Yes. Newly listed inventory will only display in SELLER | INSIGHT after you sync or import you Poshmark Inventory Report.
If I skip a couple of days and then sync, will the newly listed items from the previous days show up?
Yes. Each time you sync, we will update all of your inventory data in SELLER | INSIGHT.
Is the synced inventory data also available in the rest of the app?
Yes! Now, all of the synced inventory data is displayed on the other SELLER | INSIGHT analytics.
Data Privacy
Data privacy was one of the main reasons that we decided to develop SELLER | INSIGHT as a native iOS app. This decision meant that we could give you peace of mind when it comes to your private sales and inventory data! Unlike web-based services where you send your data to their web servers/cloud that they have complete access to, we process your data imports directly on your device! We are committed to keeping your private Sales & Inventory Report data safe, by keeping it on your device.
Poshmark Sales Report
Your sales do not show up on your Poshmark Sales Report immediately when you sell the listing. It takes multiple days for your listing to be shipped, delivered, and acknowledged; before Poshmark settles the sale/transaction. Only once the sale has been settled, it will show up in your Sales Report. Sales that get cancelled or returned will not show in your Sales Report.
Renamed Labels
For brevity and consistency, we have renamed the term "Net Earnings" to "Profit" and "Order" to "Sale".
Profit is calculated by taking the Revenue (Order Price) and subtracting: Poshmark Fees, Shipping Discounts, Upgraded Shipping Labels, and Cost of Goods Sold (COGS).
Bundles are displayed as itemized listings/sales, just like in your Poshmark Sales Report.
Did we miss something?
We do our best to keep the documentation up-to-date, however, not all of the information may reflect the latest updates. Please reach out to us if you have any questions.